We're gonna fix the Mach 6 in your garage, piece-by-piece.

This page is under construction, please help contribute to make it better.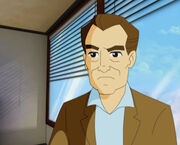 Spritle is the youngest son of Pops and Mom Racer, younger brother of Rex and Speed Sr., brother-in-law of Trixie, and uncle of X and Speed, headmaster of the academy, one of the founders in the Racer Academy, always protecting his nephews and helping them. He has been connections with his other rivalry schools and wants his older brother's dreams to be fulfill by helping Speed.
At a younger age, he seem to be more a unresponsible, selfish, but nice, young, playing boy with a regular monkey name Chim-Chim, who was always on his side and was treated well with food and everything, Spritle always loved him but that's also made him mad. He use to hide in the Mach 5 trunk while Speed was gone or was at a race, he was a great support to Speed by helping him out with his situtations and the problems encountering the family, the Mach 5, racing, or anything.
In the series, his personality and his playing around changed, he seem to be a more responsible and watching adult, watching the academy as headmaster making him be more responsible, less than himself like he was. He had a journal with information about Speed Sr. and the family. In the beginning, when meeting with Speed, he thought of him as a student, soon then when Speed showed his skill in the track, it made him surprised. After seeing the Mach 5 in the track, he notice it was Speed testing it. He asked Speed to visit him to know of how he was able to build the Mach 5, once Speed told him, he told him cautiously about the Mach 5. When X and Speed decided to race at night, thanks to Annalise, Spritle noticed a race and hurried to reach to the track, once the Mach 5 got destroyed, Spritle made the two come to his office and put the Mach 5 in the garage, making him wonder. Early in the morning, he announced them to come in, he then revealed of his brother's second son revealing that Speed is X's brother in happiness. Once the Mach 6 was complete, he along with Winn watched the race.
He was always helping X and Speed, by listening and being a adult figure to tell them cause his father was not around and they were only with no adult figure so Spritle act like one. Spritle was known as the announcer, watching the race from his building. He would cooperate with the two teachers, check the races and choose the track. When Spritle got arrested for asking other schools, bank accounts, and more, he knew he was innocent cause Zile planned it. Luckily, the brothers got him unarrested and back to being headmaster. When adding the Chezco chamber to the Mach 6, Spritle was part of the mission to get back the chamber and to test it out. Later, his job became hard, for he could not allow special treatment for the Racers' brothers. He still continued to be a help.
Personality
Edit
He was a cute, innocent, kind, fun-loving boy with a regular monkey who was on his side, he often was playing, being upset over Chim-Chim's actions, eating, often hiding like in Speed's car. When he became older, his personality changed, he became responsible, watching, always there for the brothers, and more than his younger self, may be due to his position as a headmaster.
Ad blocker interference detected!
Wikia is a free-to-use site that makes money from advertising. We have a modified experience for viewers using ad blockers

Wikia is not accessible if you've made further modifications. Remove the custom ad blocker rule(s) and the page will load as expected.